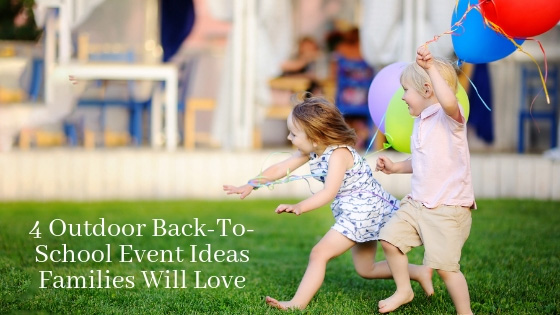 It's important for schools to promote parental involvement. After all, parents' engagement in their kids' education is key to their success, which is why educational institutions schedule events both inside and outside the classroom. In 2016, almost 80% of students had a parent who attended a school event—and many schools will certainly want to host parent-student gatherings this year, too. If your school wants to arrange a big party to commemorate your students' return, then we encourage you to reference our four outdoor back-to-school event ideas. No matter what type of event you choose, we hope your school has a wonderful time preparing for an exciting upcoming year.
A Carnival-Inspired Event
Looking for a creative way to welcome students and their parents back to your school? A fun fair will be a unique introduction to the new school year. This type of event includes family-friendly activities, concession stands, festive decorations, and prizes. All who attend are sure to have a blast!
A Family Ice Cream Social
After your students finish their first day of school, invite them to enjoy dessert on the school grounds with their families. An ice cream social is an excellent way for teachers to get to know their students' parents and siblings. There are a few different ways your school can throw this type of event: you can provide giant tubs of ice cream in assorted flavors, or you can book an ice cream truck to serve the frozen treats. For an event everybody will remember for years to come, have your teachers scoop the ice cream!
A Welcome Barbecue
Why not organize a barbecue to give students a chance to socialize with their parents and peers? Few things are better than the late summer months' temperatures and cookout favorites such as hamburgers and hotdogs. Don't forget that Discount Playground Supply's portable aluminum bleachers will offer plenty of outdoor seating for your event attendees.
A Back-to-School Breakfast
Another option for a sensational event is a breakfast-themed celebration in your school's cafeteria. This is a great opportunity for families to spend time with each other before the school year is in full swing. Additionally, parents can learn more about school programs and bond with other students' parents over doughnuts, muffins, and much more.