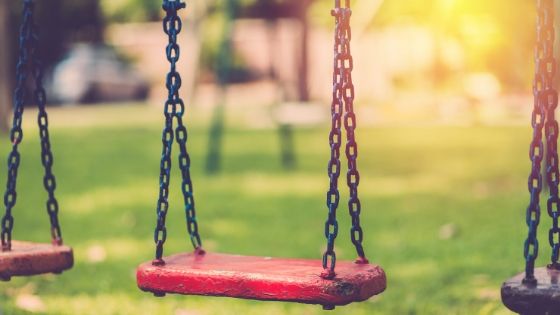 Before you can put a swing set up in the backyard for your family or upgrade your local park's playground, there are a few important things you need to know. Especially when it comes to safety, there's a lot more that goes into setting up a solid and safe playground than meets the eye. Not only do you have to follow safety regulations, but there are also general safety guidelines that will keep you and the children that will play on it safe. Take a look at these safety tips for setting up swing sets so that you can create a secure and enjoyable place for all.
Make Sure the Ground is Level
If you want to keep your swing set safe, then you need to make sure the ground it will sit on is level. No play place is safe on an unlevel surface, so do your best to make sure the ground is as level as possible. You should also install your swing set in an area free of all potential hazards.
Don't Buy a Swing Set That's Too Tall
A lot of people forget about this tip. In regard to any play structure, you don't want it to stand so tall that an adult couldn't safely get to the children. You may feel tempted to get a swing set for older children so that your kids can grow into it—don't. Get the right size for your children. Make sure that purchased swing sets have a minimum of 22 inches separating them, as well.
Ensure Solid Sightlines
If you will set up a playground for the backyard, make sure you have good sightlines of the structure from all directions. If you're in the kitchen, you need to ensure you can see the kids playing in the back. Even if you were at a school, you should be able to see the playground from various areas. This is essential for swing set, and general playground, safety.
Anchor Equipment Well
When it comes to actually setting up the swing sets, you need to ensure that you anchor everything properly. If something wobbles, try again. You must make sure that everything is secured solidly to the ground, so when you're setting it up to yourself, you have to follow the instructions to a T.
Look for Quality Materials and Products
One of the most important safety tips for setting up swing sets delves into the materials and products you choose. Don't make the mistake of obtaining cheap materials, as you'll end up putting yourself and the children at risk. Instead, turn to a qualified source such as Discount Playground Supply for quality products and materials. We have everything you need to create the perfect swing set and play place.
Check Regulations
Finally, make sure you follow proper safety regulations. Even if you put it in your backyard, all playgrounds, swing sets, and play places have to be set up according to specific rules and regulations for both public parks and private playgrounds. Make sure you do your research to ensure your kids have a safe space to play.
By following these steps, you'll be on your way to the swing set of a child's dreams. For playgrounds for school children, we have everything from commercial swing set parts to ADA platform swings. We also have what you need to make your backyard swing set the perfect escape. Turn to Discount Playground Supply now!