Posted by Discount Playground Supply on Dec 9th 2021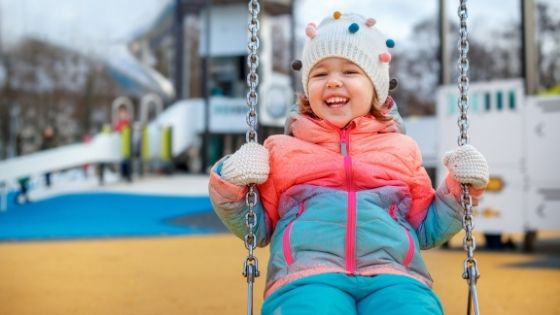 Over the years, we've seen different phrases, words, and abbreviations for playground equipment, and they've morphed into newer terms over time. Therefore, we have a glossary of common playground terminology for play equipment to use at your convenience.
Traditional Playground Equipment Terms
Playgrounds didn't appear until 1887 when the first play area was more of an oddity than a fun area to play in. Essentially, parents were more confused or concerned that the equipment may harm someone. Over time, parents even began loving the equipment, such as the merry-go-round, swings, and even slides.
Merry-Go-Round
The first merry-go-round or carousel isn't what we think of today when we go to amusement parks and pick from a spinning seat or a marching horse. In 1887, the merry-go-round was a seat that children sat in and used a turntable to spin as fast as possible until they became dizzy. Today, they're called spinners.
Nowadays, we see more modern park equipment that's safer for children and adults to use. Even as we cover merry-go-round, there's more to know.
Seesaw
The seesaw is a familiar piece of equipment that is still popular today. The newer version comes with a spring-center that prevents a rider from experiencing sharp drops if the other rider falls or moves out of their seat.
Still Rings
Many of us swore we'd join the circus once we mastered the still rings. Still rings are an enjoyable alternative to the traditional monkey bars, but you can find still rings in gymnasiums these days.
The still rings help children practice upper body strength by using their body weight to hang from the rings.
Modern Playground Terms To Know
Today, we're seeing enhanced and safer playground equipment in parks and schoolyards. Let's take a look at the common playground terminology for play equipment used today.
Swings
Swings have been around for a long time. The swing went from using rope to steel over time, and stainless steel chain links provide a more inclusive feature to a park. The swing has been adapted to feature more specific styles, especially for seniors and special needs children. Some of these adaptive styles include:
Accelerator swing
Generation swing
Inclusive swing seat
Slides
In 1887, slides were a new concept, so they didn't receive great feedback, especially since the first ones were metal. However, the materials have shifted over the years, and slides now provide fun new shapes for children to play on, including:
Open and tube
Straight and curved
Component and free-standing slide
Ball Pit
A ball pit is a fun addition to a park. Many park administrators have installed pits specifically for gaga ball. This game brings people of all ages and abilities to play.
While you plan your park out, it's crucial to install areas that promote more playtime for children, which you can do with a gaga ball pit kit.
Every park administrator desires to have enough equipment to provide all children a moment to play. Discount Playground Supply offers park administrators all the equipment they need for their playground design and exposes them to the terminology that's frequently used when building a park or playground.