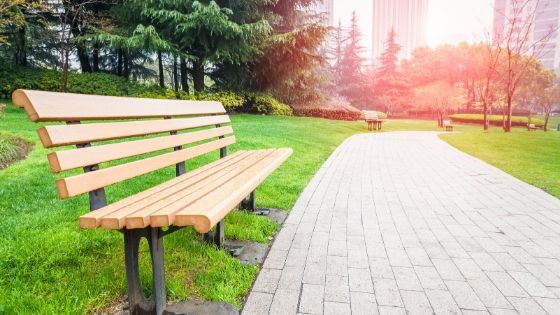 One of the most important yet most basic aspects of a successful public park is the seating. If you don't provide seating, you risk people not staying long or people not even coming back. Whether your park is large or small, people want the opportunity to sit somewhere. That said, there are quite a few different types of seating for public parks that could revitalize it. From standard aluminum sports bleachers to planter ledges, introducing some of these seating options is just what the park needs!
Fixed Benches and Bleachers
These are typical seating options that you'll find at parks with any sport or activity areas. Bleachers specifically provide a spot for large groups to gather, making it the preferred option for live music venues and sports matches. Fixed benches, on the other hand, are another typical seating option that's perfect for adding around the park. It provides meeting spots, relaxation spots—basically, any seating need can be met with fixed benches around the park.
Moveable Seating
Moveable seating solves the problem a lot of people have when deciding "what kind" and "where." When you provide chairs that park guests can move, you're helping guests feel welcome and at home at your park. It encourages relationships and communication, allowing people to grab a chair and sit next to another group of people. It provides comfort if the sun's shining too bright at that spot, but just right at another.
Planter Ledges
In our blog about the elements of a successful park, we talked about seating, but we also talked about including lots of nature. With planter ledges, you can check off both of those aspects. It's the ideal blend of natural and urban living—the perfect park won't take away from the greenery around it but will enhance what's already there. That's exactly what planet ledges do. They provide easy seating near greenery. They may not be the most comfortable seating option, but they're quick, easy, and beautiful.
Seat Walls
Similarly, seat walls may not be the most comfortable, but they help showcase any fountains, artwork, or focused pieces in the park. When you surround a fountain with a seat wall, you urge guests to relax a while—if you don't, they may walk right past it and not look back.
Social Seating
The last type of seating is social seating—this could include various accommodations. Typically, picnic tables fall under this category. They are near each other to facilitate social interaction. In fact, that's one of the main benefits of public parks—their ability to create and maintain relationships. This is another very important seating type that you'll want to include for success.
For seating accommodations in your park, turn to Discount Playground Supply. We offer bleachers, park benches and picnic tables, and so much more. We strive to provide you with everything you need to create a successful area for you and the community to enjoy. Sit back and relax when you partner with us!