Posted by Discount Playground Supply on Feb 23rd 2021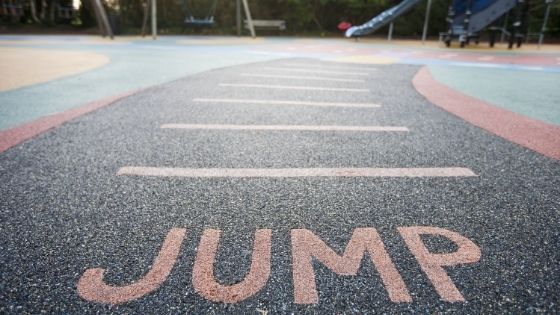 The ability to select an effective playground surface is the first step towards creating a safe and approachable playground for your school or community. Playground surfacing is a necessity because while it may not seem all that soft, it is effective for preventing serious injuries from falls that will inevitably occur on the playground. In order to keep your playground as safe as possible, let's compare the different options available with this guide to the different types of playground surfaces that account for the various factors of your playground.
Loose-Fill Surfacing
Playground surfacing can be split into two categories: loose-fill and unitary. First, we'll examine the options loose-fill surfacing has to offer and the common traits different loose-fill surfacing shares. For example, loose-fill surfacing is often the more affordable choice, easy to install, and easier to drain after a heavy rainfall or melting snow. The best feature for your needs, however, is how loose-fill options are typically exceptional at absorbing impact and protecting children from serious injury should they take a fall.
There are some cons, however. While loose-fill surfacing makes installation easy, it is also more demanding to maintain. The material can be kicked around, and frequently used locations will soon be looking a bit more barren. You will have to regularly rake material back into the playground and refill the surfacing to maintain its safety benefits.
Pea Gravel
Pea gravel is nice because its major benefits include being inexpensive, easier to drain, and completely unappealing to insects. It's also much nicer to look at but is one of the harder materials for children who use wheelchairs or other mobility devices to maneuver on. It's recommended that pea gravel be used for playgrounds targeting older children, as it is a valid concern that smaller children will attempt to eat the gravel or get it stuck in orifices such as their noses.
Pea gravel requires a lot of maintenance and constant supervision to ensure the pea gravel is at safe levels and stays within the playground rather than being scattered around.
Sand Filling
Sand is another common surfacing material that has the same benefit of being inexpensive and easy to install. Other beneficial benefactors include how it's a much softer cushioning material than pea gravel and kids are less likely to try and eat sand. The major drawback of sand, however, is that it is very easy for objects to be buried and become a hidden hazard. Sand also has a tendency to stick onto kids and is thus taken out of the playground.
Like pea gravel, sand has to be regularly maintained, refilled, and isn't very accessible or maneuverable for kids using wheelchairs.
Engineered Wood Fiber
Engineered wood fiber, or EWF, is typically one of the more popular choices because it has proven to be the safest for playgrounds on a budget. This form of surfacing notably "knits" together to become more compact, therefore providing a smoother surface that makes it easier for kids using wheelchairs to maneuver on and provides greater impact absorption. This compact "knit" also means that the material will stay in place better than pea gravel or sand.
When it comes to maintenance, you'll still need to monitor frequently used areas to ensure the surfacing is refilled as necessary. The depth of EWF surfacing should never be less than 9 inches to ensure it provides that superior impact absorption.
Unitary Surfacing
Unitary surfacing are bound elements formed into tiles or rolled products like turf. These surfaces are typically made up of nylon, synthetic material, and recycled rubber tires. As a result, unitary surfacing does not require a lot of maintenance and comes in a variety of colors so that you can give your playground a colorful, attractive aesthetic.
The downside, however, is that these surfaces are typically pricier, require professional installation, and get very hot during the summer. It's always a good idea to ask about test results or certification papers to ensure you're getting a quality product before making the investment.
PIP Rubber
PIP, or pour-in-place rubber, is perhaps the most common form of unitary surfacing because of the variety of colors and designs incorporated in the rubber. The material consists of a wear layer of rubber particles and a top finish layer of granular particles that provides a very smooth surface so that children in wheelchairs can participate with ease. It also offers a place for kids to ride bikes, scooters, and other equipment. In terms of maintenance, PIP rubber surfacing is durable and is fairly low maintenance, while offering excellent shock resistance. It will eventually need to be replaced every few years due to the wear and tear it undergoes.
The downside mainly lies in the cost. Both the materials and professional installation necessary can be costly, and the same professional surfaces will be necessary if your surfacing needs repairs or replacement. Common damages include cracks or flaking when the wear and tear begins to take its toll.
Rubber Tiles
Another rubber surfacing option is tiles. These tiles are 2-by-2-foot rubber squares with interlocking sides. These are also more expensive than loose-fill options and require professional installation, but are a bit more cost-effective than PIP surfacing. Furthermore, maintenance of rubber tiles includes frequent sweeping and cleaning to reduce the buildup of dirt and grime in between the cracks of the tiles.
Synthetic Turf
For a more natural appearance but the same shock absorption surfacing materials provide, synthetic turf is the ideal compromise. This turf is most familiar as artificial grass that you would find on athletic fields. Synthetic turf is accessible for wheelchair access, while also being easy to maintain and preventing objects from getting lost within.
A downside unique to the synthetic turf is that static electricity can build up within the material and might require an anti-static sol to prevent kids from shocking themselves.
Playground Bordering
The last part of this guide to the different types of playground surfaces will be the borders used to maintain and confine the surfacing materials. You'll have a choice between plastic playground borders and rubber playground borders. Both are effective for keeping your surfacing materials within the confines of the playground, and the main differences that you'll have to choose between are the cheaper cost of plastic bordering and the superior durability rubber bordering provides. Rubber borders are also less likely to have edges and absorb more impact should any kids fall onto the bordering.