Posted by Discount Playground Supply on Dec 29th 2022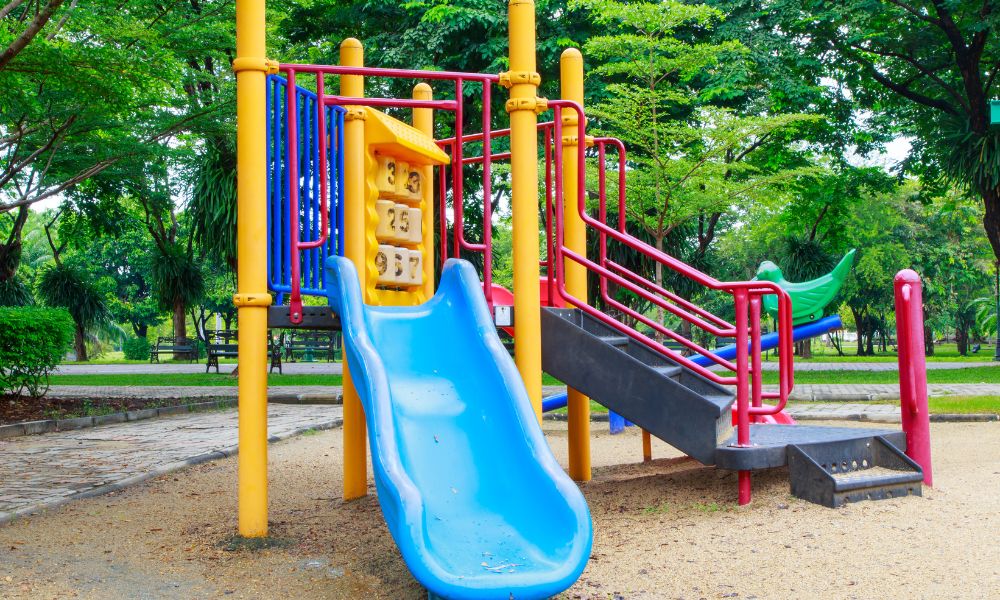 Playground equipment has gone through a massive change in recent years. Playgrounds are no longer wooden or metal; many consist of recycled plastic. How is this so, and why is it happening? Find out all you need to know about how recycled plastic is used in playground equipment and how it will be a big hit in your park.
Why Is There Recycled Plastic in Playground Equipment?
The reason playground equipment construction uses recycled plastic is to conserve energy and reduce plastic buildup in landfills. You might think plastic is not suitable to use on the playground, but it's actually a good thing. Recycling plants break down into bits and parts any plastic that makes its way to them, just like any other resource.
Is All Plastic the Same?
There are many plastics, each with its own particular properties. While some manufacturers create plastics for food storage, others create plastics for one-time-use purposes, like plastic cups. The explanation lies in the chemicals used to produce these plastics. For example, a milk jug consists of high-density polyethylene (HDPE), repurposed for various projects, such as playground equipment.
Other plastics you can find in playground equipment include acryl glass, duroplastic, and polyamides. These plastics, like HDPE, are great to use in recycled playground equipment, but not all of them are able to handle certain climates. You should get to know the plastic you're planning to use before buying playground equipment.
How Is Plastic Used in Playground Equipment Manufacturing?
Manufacturers first purchase broken-down plastics from recycling plants to make playground gear. From there, workers morph, bend, and cut the plastics and use them to build parts. They then take the plastic parts and begin the molding and assembly process.
Molding
Playground manufacturers piece their molds by using a molding machine. Before sending the plastics down the line, workers clean and inspect the recycled materials before breaking them down into particles.
After the breaking down phase, the particles move onto a conveyor belt, which runs them through the molding machine, which heats and binds them with a color agent using a mold injection. The color remains the same throughout the process.
Assembly
After the molding process is complete, workers move to assembly. Assembly is thorough, lending more attention to ensuring the accurate assembly of each piece. Workers use molding injections to morph the pieces into different shapes and sizes.
After the formation process, workers cut the material, so it's easier to assemble it into different applications such as ramps, decks, outdoor furniture, and swing sets. This process is truly fascinating; utilizing recycled plastic creates a better playground for all.
Which Common Playground Equipment Uses Recycled Plastics?
Many parts of the park use recycled plastics, including that bench you enjoy sitting on while watching the kids play. Other pieces of common playground equipment that use recycled plastics include:
Playsets
Playground gear, especially tike playsets, use HDPE plastics because they're cheaper, easier to clean, and safer for children to use. Recycling plants recycle HDPE plastics daily, allowing more manufacturers to create sustainable play equipment for kids. Plastic play gear is safer because it uses malleable materials you're familiar with that don't have overly-complicated ingredients in their makeup.
Slides
Everyone knows slides are commonly made from plastic nowadays, but which type? HDPE, of course! HDPE is a nonbiodegradable plastic that's easy to maintain, and it's safe because it doesn't get too hot in the summer, like steel.
The fun thing about slides is that they're customizable. HDPE plastic is flexible and a great building material for crafting different slide styles and shapes. The variety in style will surely be a big hit with the neighborhood.
Paneling
Paneling is great to have for themed playgrounds. For one, it provides a variety of activities for kids, such as rock climbing. There's a lot you can do with HDPE paneling. It's a completely versatile, eco-friendly material that looks great in any park setting.
Go from ordinary to extraordinary by transforming your play gear into a treehouse, pirate ship, or mountain view. You can build anything you can imagine—and the paneling is insanely easy to clean and doesn't attract mildew or dirt like other plastics.
The Benefits of Using Recreation Plastic
The first thing to note about the benefits of using recycled plastic in your playground equipment is the manufacturing process uses less energy. Manufacturers use a molding injection system that forms plastics into any preferred shape or size.
The second benefit is it reduces pollution—which is beneficial for cities. In an urban environment, you want to do what you can to prevent communities from enduring the negative effects of climate change. Using nonbiodegradable plastics in play gear drastically reduces greenhouse gases, and no waterway has plastic contaminants floating around.
Here are the other things you can enjoy by using HDPE-manufactured play gear:
There's less plastic thrown into landfills.
Your community builds a better lifestyle.
Crude oil consumption depletes, resulting in less demand for fossil fuels.
Recycled Plastic Creates an Eco-Friendly Playground
If your aim is to have an eco-friendly playground this year, ensure your first goal is to buy high-quality playground equipment. You create a better play area when you purchase equipment made from organic, recyclable resources.
What could the community get out of having an eco-friendly playground? A lot, including improvement of their overall lifestyle. Residents feel more enthusiastic about picking up after themselves, and workers spend less time doing labor-intensive maintenance.
Other benefits your community can receive from having an eco-friendly playground include:
More ways to connect with nature.
A better way to restore and maintain natural habitats and ecosystems.
Increased inclination to care for the natural environment.
Connect with your neighborhood planners today to find out how to create a better park. After meeting with them, browse our commercial playground equipment for sale at Discount Playground Supply. Here, we make it a priority to sell eco-friendly, affordable equipment that is sure to enhance the quality and appearance of your park. Browse our online store for ideas on creating your town's recycled playgrounds.