Posted by Discount Playground Equipment on Jul 30th 2020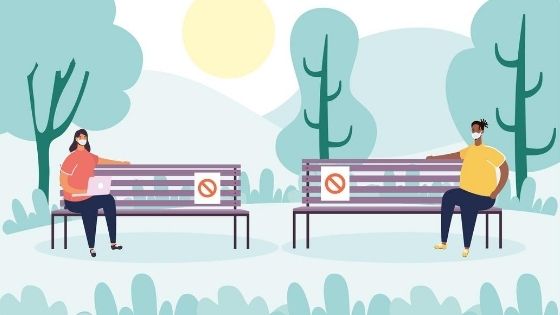 Public parks are meant to be enjoyed—even during a pandemic. Despite widespread knowledge about the importance of social distancing, not everyone will play by the rules. Here are some tips on how to encourage distancing at public parks.
Clearly List Social Distancing Rules
Everyone needs a reminder about social distancing rules from time to time. By placing large signs at park entrances and throughout the park, you can ensure guests remain aware of these rules. Placing signs at any playground borders may also help remind parents and children of the new rules. Here are some examples of rules and other helpful information to include on the signs:
Park hours
Face mask-related regulations (e.g., Wear a mask when entering or leaving the park)
Guest capacities (e.g., Maximum of 10 guests per party)
Physical distancing rules (e.g., Remain six feet apart from other guests at all times or Use social distancing markers on the path)
Rules regarding children (e.g., Monitor children at all times)
Any consequences of failure to follow the guidelines (such as imposition of fines or being asked to leave the park)
Monitor Guests
Having park staff or volunteers monitor guests throughout the park will ensure better compliance with social distancing rules, limit the number of people in the park, and break up any large groups that form. For example, if a child inadvertently breaks a social distancing rule, the employee can remind the child's family members. Consider limiting to parties to no more than 10 people so that more people can enjoy the park before the total number of guests exceeds local or state limitations. Staff can also helpfully answer guests' questions about the new social distancing rules.
These are just a few tips on how to encourage distancing at public parks. If these tips don't work for your guests, you can always adjust the rules and enforcement measures. Stay safe and have fun!