Posted by Discount Playground Supply on Feb 12th 2021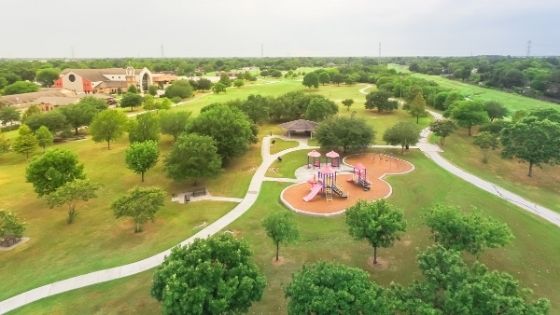 Public parks are a fantastic addition to any community, as they provide a place for your community members to engage with each other and participate in recreational services. These parks are not only an amenity for all ages, but they improve the property value within your community. For these reasons, you should be keen to preserve your parks and consider how to improve the safety of your parks. This will give your patrons greater peace of mind and will encourage them to continue to use your parks.
Playground Maintenance
Many public parks include playgrounds for younger kids that must be regularly maintained to mitigate any hazards that may crop up. You should have your playground surfaced to better protect kids from falls, and you should replace that surfacing when necessary. Regularly check equipment for rust and damages that you will need to repair. Most importantly, but perhaps the most often neglected, you also need to sanitize the playground with playground disinfectant. With so many kids playing on and touching the playground, bacteria and germs build up quickly.
Visibility and Sightlines
Keeping visibility in mind is key for learning how to improve the safety of your parks. Many families will take their kids to parks, and they need to be able to supervise their kids as they play. To improve the perception of safety within your park, you should clear it of excess brush or obstacles that could make it easy for someone to hide within. This visibility is not only important to help parents keep track of their kids but being able to see in and out of the park provides a greater sense of safety as it's easier to identify suspicious persons. Additionally, with the park in full view, the neighborhood becomes a sort of natural surveillance for the park.
Foot Traffic Control
To prevent overcrowding and collisions, you should have a clear and convenient system of pathways with multiple entrances and exits. This is a good way to improve the safety of your parks, as it will make it easy to filter people through the park. Thus, your visitors will be far more comfortable if they don't feel crowded. Being able to have adequate space between people will be even more important when the COVID-19 pandemic ends, as many will still likely be wary of getting too close to others.