Posted by Discount Playground Supply on Mar 26th 2021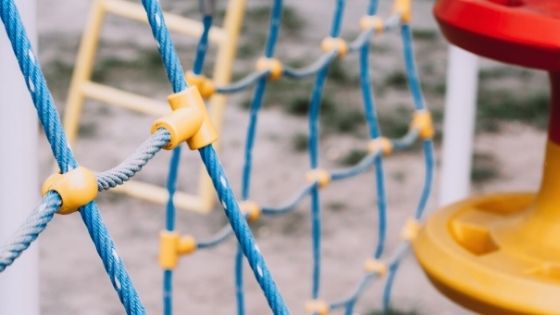 As summer approaches and there's finally a light at the end of the tunnel for the ongoing pandemic, families will be looking to get outside and enjoy the fresh air. To address this, an HOA board must see that their public parks are cared for and should understand how to properly maintain playgrounds in HOA communities in order to keep kids safe and entice families to use their public parks. Let's explore what's necessary to maintain these playgrounds.
Schedule Routine Inspections
Consistency is key to keeping playgrounds safe and in good condition. Your HOA board should schedule regular periods of inspection and maintenance to check for damages, rust, and other defects such as loose nuts and bolts. These little fixes help prevent larger issues. By remaining one step ahead of rust and deterioration, the equipment is likely to last far longer. Keeping a consistent pair of eyes on the equipment will also help your board know when it's time to find replacement equipment if the wear and tear becomes too extensive.
Consider the Ground Material
One of the most important aspects of how to properly maintain playgrounds in HOA communities is to consider the ground material your playgrounds are built upon. Dirt and grass aren't great for absorbing the impact of falls, which will always be the most common form of injury on a playground. To keep kids safe and reduce the severity of injuries, your HOA board should invest in a playground border kit and surfacing for your playground. It'll also help preserve the appearance of the park, as kids won't be tearing up the landscape with their fun and games.
Managing the Fauna
Visibility is all-important when it comes to playground safety. Parents want their kids to be able to run free and play while still keeping an eye on them. Clearing away all fauna that could obstruct supervision is a necessary aspect of security that makes it difficult for anything unseemly or suspicious to occur within the park. Additionally, there may be some times when beehives and insect nests crop up on the playground. You will need to remove these hazards from the playground to ensure the safety of your patrons.
Laying Down Rules
If your HOA board has certain rules they want residents to follow when attending the playground, you should clearly display them on a noticeboard where families can easily access and refer to them. These rules are in service of keeping your residents safe and need to be easy to reference when necessary. After all, rules aren't rules if no one knows about them.