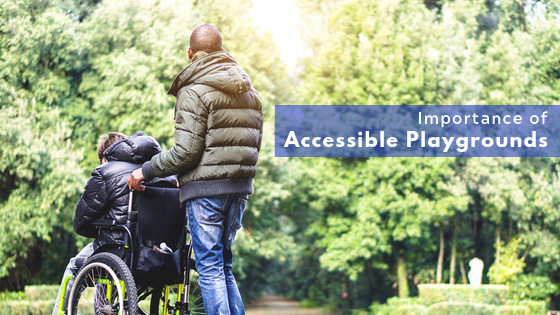 Every child deserves to enjoy free and active play. Playgrounds and parks are places where children can let loose and explore their imagination and creativity. However, when a playground isn't nearly as inclusive or accessible as it should be, many children are pushed aside. This sideline-watching diminishes the opportunity for the development of physical, cognitive, sensory, and social skills. Here we'll discuss the importance of accessible playgrounds—read on!
What is an Accessible Playground?
Simply put, an accessible playground provides free play for all children, regardless of ability, gender, age, or background. This means that the playground is wheelchair-accessible and has adaptable swings for those who have severe physical impairments. Apart from that, an accessible playground will have different sensory elements so that children with autism or sensory integration disorders can play.
At the end of the day, an accessible and inclusive playground goes above and beyond to ensure that people feel they belong. There are many different benefits that showcase the importance of accessible playgrounds, and we'll discuss a few of them below.
Help Children Socialize
Accessible playgrounds naturally help children socialize. At the core, that's what playgrounds and parks have done for centuries. When you have an accessible and inclusive playground, you raise the chances of even more children learning how to socialize and actually enjoying it. Sadly, many children with disabilities spend a lot of time alone or away from other children, but an accessible playground provides the opportunity for complete interaction.
Benefit the Community
This may not be at the forefront of everyone's mind when it comes to accessible playgrounds, but they truly do help the community. At the most basic level, just one accessible playground in the community spreads awareness. It acts as a spark, initiating conversations about how the community can improve accessibility elsewhere. There's also the fact that parks and playgrounds bring more families in—and, when that playground is accessible, it opens the door to a wider scope of people.
Promote Active Play
Another important aspect of accessible playgrounds is how they promote active play for children with different backgrounds and abilities. In general, parks and playgrounds provide the opportunity to stay active in a country where many kids are quite inactive throughout the day. This is especially important when it comes to children with disabilities, who are often unintentionally left on the sidelines. With an accessible playground, all children can delve into active play.
Develops Relationships
Finally, accessible playgrounds are important for their ability to develop and sustain a myriad of relationships. Without the park or the playground, many children would never meet, talk, or play with one another—severely limiting their chances of obtaining and maintaining relationships. Human interaction is vital for those with disabilities; when you have a playground that isn't accessible, you limit the number of opportunities one has to create meaningful relationships. Accessible playgrounds encourage healthy social interaction among groups that wouldn't normally associate—it's incredible!
If you think your community or school's playgrounds could benefit from an accessibility renovation, turn to Discount Playground Supply. From a children's sandbox (a wonderful sensory element) to an ADA platform swing set, we have what you need to get all the community children actively playing!