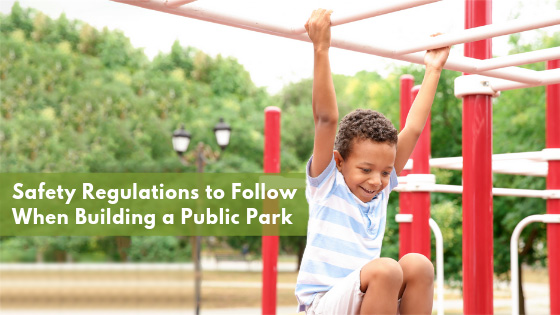 Parks have brought both children and adults joy for years, and for good reason. They provide an opportunity for exercise, a way to connect with other people, and allow for outdoor play (which is great for an individual's health). If you want to reap the rewards public parks provide, you may be thinking about building one for everyone to enjoy. If that's the case, then it's vital to understand the various safety guidelines, standards, and protocols before you start.
The American Society for Testing and Materials (ASTM) makes, and enforces, most of the safety regulations for public parks. These regulations depend on the intended age range for the park and the materials used as playground surfaces, fences, and more. Here, you'll find the important safety regulations to follow when building a public park—read on for more information!
Public Park Safety Regulations to Follow
Separate Age Groups
It may seemingly obvious, but you need to make sure you create distinct areas for different age groups. If you want the playground to serve children of all ages, then those areas should be separated by a buffer zone created with shrubs, benches, or rubber playground borders. Though child development is fluid, parks should focus on targeting specific age ranges to ensure safety for younger children.
Utilize Shade
Skin cancer is a serious disease that effects many Americans, so it's important to optimize your park's layout and create as many shaded areas as possible. This can mean either using natural shading (trees), designing play structures that create shading (elevated platforms with shading underneath), or including a structure that will provide shading (gazebos). When it comes to metal slides and other metal equipment, it's especially important to utilize shading in those areas.
Avoid Tripping Hazards
Parks and play areas should be completely free of any tripping hazards. Things like a sudden change in elevation are something you should avoid in your playgrounds. If there's no playground around, then elevation changes are fine, but drastic changes in the ground can cause issues on playgrounds. You also should install all anchoring devices for playground equipment below ground level to prevent injury.
Know What's Not Recommended
There are a few different types of playground equipment not recommended for public park use. Those include trampolines, swinging gates, large slides, climbing ropes not suspended on both ends, multiple occupancy swings, rope swings, and trapeze bars.
Pay Attention to Surfacing
One of the most important things you should look out for when building a public park is the surface. Grassy areas are great for sections where there are no playgrounds, but playground surfacing requires more thought and planning. Surfacing rules play a big part in playground guidelines. Concrete, asphalt, dirt, grass, and CCA treated wood should never be used.
Playground Standards and Guidelines
Below, we list some places where you can find the specific guidelines for playground safety. Head to ASTM International to get copies of most of the documents listed.
General Standards:
Consumer Product Safety Commission (CPSC) Public Playground Safety Handbook
ASTM F1487 Standard Consumer Safety Performance Specification for Playground Equipment for Public Use
Department of Justice ADA Guidelines and Standards
Surfacing Standards:
ASTM F2223 Standard Guide for ASTM Standards on Playground Surfacing
ASTM F1292 Standard Specification for Impact Attenuation of Surfacing Materials within the Use Zone of Playground Equipment
ASTM F2479 Standard Guide for Specification, Purchase, Installation and Maintenance of Poured-In-Place Playground Surfacing
ASTM F2075 Standard Specification for Engineered Wood Fiber for Use as a Playground Safety Surface Under and Around Playground Equipment
ASTM F1951 Standard Specification for Determination of Accessibility of Surface Systems Under and Around Playground Equipment