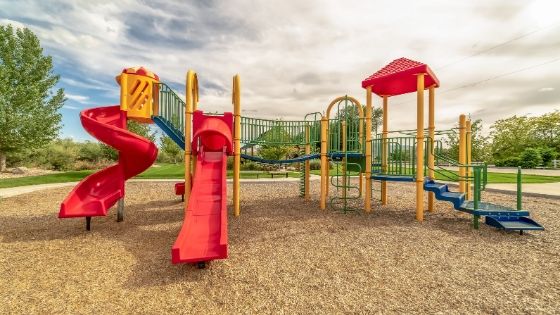 Selecting the right playground equipment for kids is essential to their development. Playgrounds are important for children's growth, creativity, communication, physical health, and so much more. However, if you put a playground for fifth-graders in a preschool play area, then you risk physical harm to the children and little to no play development. To ensure your play area has the right hardware, take a look at our guide to the best age-appropriate playground equipment for children ranging from six months to twelve years of age.
Six to 23 Months
When it comes to infant and toddler playground equipment, there are a few things you need to think about. Safety is always essential, but these structures should have plenty of space for the kids to crawl, move, and explore. Sensory play largely influences children of this age—they need areas where they can use their hands, eyes, feet, and torsos. Therefore, the focus should be on ground play. We've listed some typical examples of equipment below:
Small slides
Swings with full bucket seats
Climbing equipment under 32'' high
Spring rockers
Two to Five Years
Development will expand exponentially during these three years. You'll want to provide a variety of structures on which kids of this age can play, including some sensory elements such as sandboxes. You can include low platforms with access to ladders and ramps, which will improve the kids' physical development. Parents and teachers must still be on alert when supervising kids of this age because dramatic play and imitation of older children are consistent for this age range.
Ramps and slides
Crawl tunnels
Themed activity panels
Sandboxes
Merry-go-rounds
Five to 12 Years
These are super-formative years when it comes to the stages of play a child goes through. How quickly and fluidly a child goes through these stages depends on the sort of structures you provide, particularly at this age range. These pieces of equipment can be much more diverse and freer, letting kids roam and use their creativity:
Chain or cable walks
Horizontal bars
Freestanding climbing areas
Sports equipment
Swings
Spiral slides
For all your playground equipment needs, turn to Discount Playground Supply. We have all the commercial swing set parts you need—whether it's for toddlers or fifth-graders. We want to make sure you feel that your playground is up to par once the kids can come back and enjoy it. You won't want to miss out on everything we have to offer!