Posted by Discount Playground Supply on Mar 30th 2022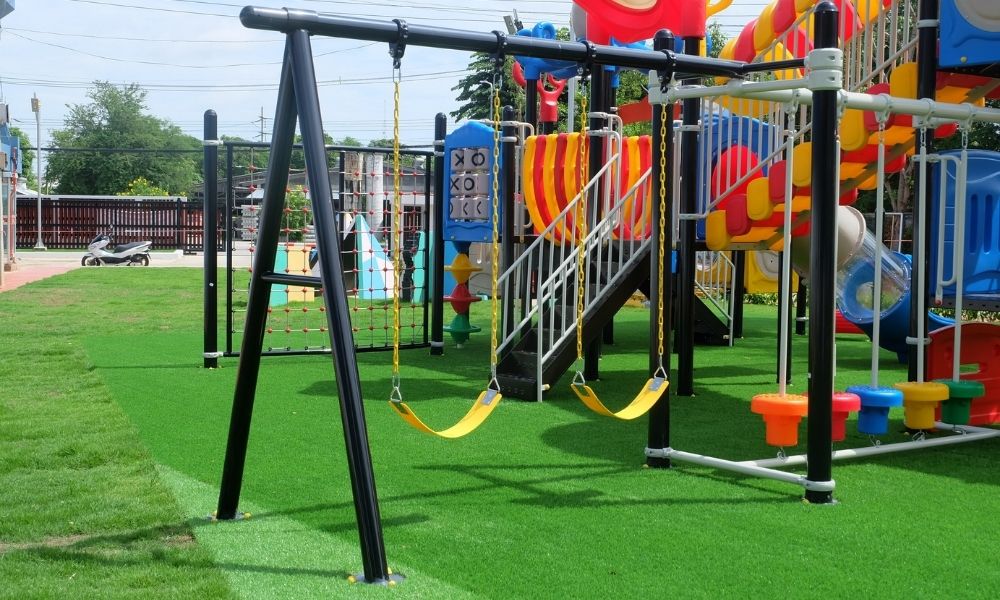 Every play area requires enough equipment to accommodate children of all ages, including swings that parents and children can use together. Many park officials always look for new equipment to get their parks the most necessary upgrades. Here are the different types of playground swings to pick from.
Belt Swing
The belt swing's a classic; once made with wooden planks and now with synthetic rubber seats, the swing's a hot item to have. It has both easy access and the ability to grab onto and slide right in.
In order for a belt swing to fully function, ensure that the rope or chains attached to the bottom part are securely attached to the swing set. Ensuring that the swing's fastened helps reduce the risk of injury in children.
Bucket Baby Swing
Parks are the perfect place for children to grow and develop through their surroundings. As much as they love the rush a slide gives them on the slide with mom and dad, a swing can provide the same exhilaration.
Since toddlers and babies can't swing independently, having a bucket baby swing brings parents and children together, helping to build a stronger bond. Children have straps around them to prevent falling, and the best way to check the belt to test if it's loose or falling apart is by lifting and examining the area it's attached to.
Glider Swing
Many remember jumping on the glider, especially when attempting to put as many people as possible on to see how high they could go with more than two. The glider swing is a fun equipment piece that allows you to push and pull back and forth until you and the other person get off the ground.
Like the swinging boat ride at amusement parks, the glider is a swing that children sit on and rock back and forth.
Adaptive Swing
Even when building a more inclusive play area, this particular swing style is essential. The adaptive swing plays a crucial role in how children with limited mobility and other disabilities interact with equipment at the park.
With the help of the adaptive swing, it has transitioned parks into becoming more than just accommodating for guests with disabilities. Start with this list of different swing styles for the park to help meet local guidelines on making your recreational area more inclusive.
Even as you expand your playground with the latest additions of swings, it's crucial to maintain the equipment often, and buying playground swing set hardware helps keep repairs up to date.
Now that you've laid out your plans, it's time to add in your swings. Discount Playground Supply helps ensure park administrative staff are in great hands when needing specialty hardware sets for their play equipment. For more insight on our hardware sets and how they can improve your play area, contact us here.