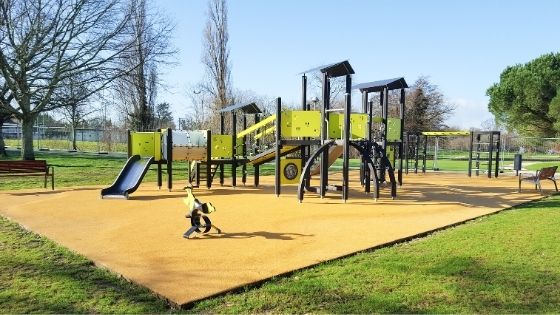 Once you've decided what kind of playground equipment you need and have established your budget, you can then begin to make an informed decision as to what location would be most ideal for your playground. To stress the importance of location when designing a playground, let's examine some of the different factors you must consider.
Choosing a Site
First, you'll want to decide where you'll be building. Some sites to consider include:
Schools: Playgrounds are an important part of schools. They give kids a chance to play and relax in the middle of their school day, and a good playground is the perfect place for kids to learn social and conflict resolution skills.
Community Parks: If you want to encourage your community to socialize and gather together after COVID-19 has ended, building a playground at a community park is a great way to attract families and make those spaces appealing to multiple age groups.
Recreational Centers: As a place of encouraging kids and adults alike to join sports, clubs, or art programs, a playground is right at home at a rec center. As recreation centers often offer camps and similar activities to kids, playgrounds are great to have on hand for these kids to play on.
Consider the Land
Next, you should consider the area and land you'll be building on top of. Sand works as a natural surfacing should you decide to build a playground on the beachside. Grass, on the other hand, is not very shock absorbent and will quickly be ripped up and become slick with mud. In this case, you'll want to establish a perimeter with a plastic playground border and fill it with a surfacing material such as sand, wood chips, or pea gravel. This will reduce the severity of injuries and prevent impromptu mud wrestling.
Safety Measures
Safety is certainly one of the biggest aspects when considering the importance of location when designing a playground. Something to keep in mind is how visible the area is. There should always be a clear sightline of the playground when looking in from the perimeter. This will help parents keep track of their kids and will ensure nothing suspicious can occur on the premises, as may be the case if there are hiding spots in or around the park. You also want to consider the climate. For example, if your playground is directly under the sun, metal playground equipment will become a hazard for burns. It's these details that are key for a successful playground.