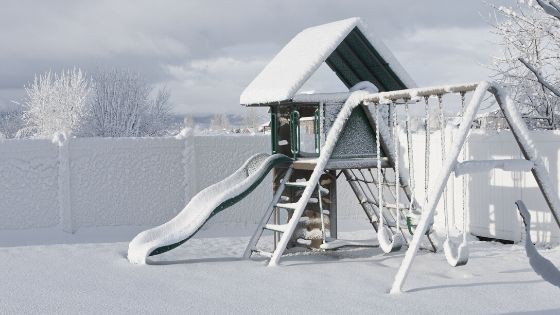 Winter is on its way, which means your favorite outdoor spaces and places will soon become covered with snow. As important as it is to get outside, even in the cold weather, it's even more important the playgrounds people use for enjoyment are safe. It's up to us to ensure that kids have a safe place to play throughout the season. Pay extra attention to snow safety this year with these important winter playground maintenance tips!
Inspect Surfacing
The most important thing you can do for your playground before winter is take as many preventative measures as possible. Before harsh weather comes, make sure to inspect the surfacing. If you have pour-in-place rubber, fill in any cracks or holes, as those will get worse with snow and ice. Also, replenish loose-fill surfacing such as wood chips or mulch to provide a safe surface for a fall.
Remove Seasonal Items
Another step you should take before snow falls is to remove any seasonal items you have. For example, shade protectant canopies can withstand wind, but too much snow means a piece could break off in no time. Take the time to remove canopies and other items people can't use in the winter. Keeping these items out can create a hazard in the snow.
Check Snow & Ice Build-Up
Throughout the winter season, make sure you pay attention to any snow and ice build-up. If you see any standing water, do your best to get rid of it. You also need to remove ice and snow from any steps on the playground. If it's not possible to do it every time it snows, make sure you have cautionary signs up to warn guests. When you make it out to clear the snow, use plastic shovels instead of metal ones. Also, exert caution if you need to use salt or sand to remove ice, as it can create a slipping hazard.
Tighten or Replace Hardware
In general, winter poses extra hazards; kids can easily entangle scarves and loose strings on hardware. Do your best to check bolt lengths, and secure all connections before the winter weather hits. This will keep children from catching anything on hazards, and it will give you less to worry about when spring rolls around.
To update your playground and keep it in solid condition all year, turn to Discount Playground Supply. We have what you need to keep your playground looking pristine no matter the season!