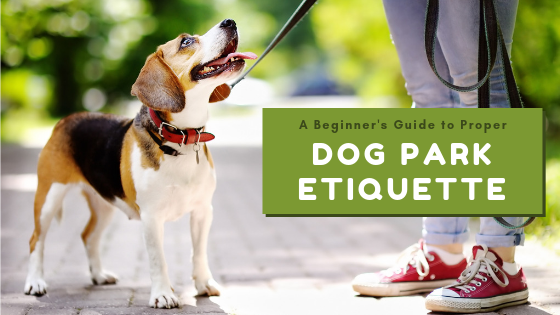 Parks have become excellent resources to community residents; in fact, the National Recreation and Park Association confirms that "Americans, on average, visit their local park and recreation facilities more than twice a month." On the same hand, it's no secret that many of these community members own dogs, so naturally, more cities are building dog parks, and for good reason. If you want to visit your local dog park for the first time, we recommend reading our comprehensive guide on dog park etiquette first.
Always Keep A Collar on Your Dog
Typically, dogs already have their collars on them, but if your pooch usually roams around without one, you may want to think twice. It's important to keep a collar on your dog at a park, especially because there's always a chance your pet may run off. Other people can reference its tags and ensure they get home safely.
Bring Your Pup's Leash with You
It's worth it to bring a leash with you to the park. You don't have to constantly keep your dog on the leash, as leashes pose a tripping hazard. Let's say you're visiting an off-leash park, however, and another dog tries to attack yours. You can quickly resolve the situation before it escalates by hooking up your dog to their leash and removing them from danger.
Clean Up After Your Furry Friend
If you take your dogs out in public, of course, you should pick up after them. Leaving your dog's waste is not only uncourteous, it's also unsanitary—dog feces contains worms and other nasty stuff. Thankfully, most dog parks have poop bags and special pet waste receptacles for its visitors; however, some dog parks are situated within playgrounds, so when in doubt, bring your own bags. As a last resort, use the playground trash cans.
Ensure Your Dog Knows Basic Commands
We're sure you've encountered a pup that didn't give you the greatest first impression. Perhaps they meant well, but they were overly excited and jumped all over you, or maybe you've come across a dog that was extremely territorial and constantly barked at you. Whatever the case may be, these behaviors aren't suitable for dog parks—everybody should have stress-free experiences at the dog park. Before you decide to go to a dog park, teach your dog to stay calm and behave in shared outdoor spaces. In general, a well-behaved dog simply gets along with other dogs better. Puppies won't understand how they should behave out in public, so take the time to train them while they're young. Also, be sure they receive enough exercise in addition to their dog park visits. This way, you can prevent potential destruction from restlessness.
Keep Your Pooch Healthy and Up to Date on Vaccines
In short, a healthy pup won't infect other dogs. If you suspect your four-legged friend may be sick, don't take them to a dog park. Sick dogs can spread illness through direct contact and shared water dishes. Additionally, to avoid diseases and parasites, most parks request that dog owners vaccinate their fur babies and treat them for pests. If you're unsure about whether your dog is up to date on its vaccinations, or even if you need more information regarding flea and tick prevention, don't be afraid to talk with your veterinarian. Finally, if you own an unneutered dog, we suggest waiting to bring them to the park. This is because there is a chance that females can become pregnant and males can cause unnecessary fights and, well, more puppies.
Leave Food and Toys at Home
Leaving treats and toys at home may sound counterintuitive but hear us out. For one thing, owners should understand that all dogs react to treats differently. Some owners may ask you for treats and won't necessarily realize that their pooch is allergic or sensitive to the ingredients in them. To prevent harm, it's best to just keep these in your pantry. On the same hand, there are plenty of selfish dogs out there that will become aggressive over treats, as well as balls and other toys. Many dog parks, fortunately, offer equipment to entertain the dogs such as agility barrels, hoop jumps, and ramps. Your furry friend can freely run around the park, so toys are not all that necessary to keep them content.
While you may not want to bring the items we mentioned, we do suggest packing a collapsible bowl for your dog park adventure. Your pooch will appreciate having its own supply of fresh water!
Stay Attentive
It's frustrating when other owners get distracted by other people or their phones. After a while, it can feel like you need to step in and command their dog for them! A responsible dog owner, after all, should always keep an eye on their pup. A trip to the dog park is about developing a meaningful relationship with your pet, so give them the attention they deserve. Furthermore, you should stay aware of other dogs' behaviors; they can cause a scene and hurt your dog if you do not actively supervise them.
Stay in Designated Areas
Most dog parks are divided by breed size, small and large, but some parks don't have separate play areas. Regardless, you want to keep your dog away from dissimilar canines. Although your large dog seemingly doesn't mind small dogs, or your small dog may love roughhousing with the bigger breeds, it simply isn't the best idea. Larger dogs may either accidentally hurt them or view them as prey and become hostile.
Owners can do their part to ensure their dog, as well as other pups and their parents, have a safe and enjoyable experience at the neighborhood park. It's important to consider the amenities available to both dogs and owners, so make sure your park is properly outfitted. Discount Playground Supply proudly provides meticulously-crafted dog park equipment to local parks and recreation areas. For more information about our agility courses and activity equipment, don't hesitate to give us a call at 888-760-2499.