Posted by Discount Playground Supply on Aug 5th 2022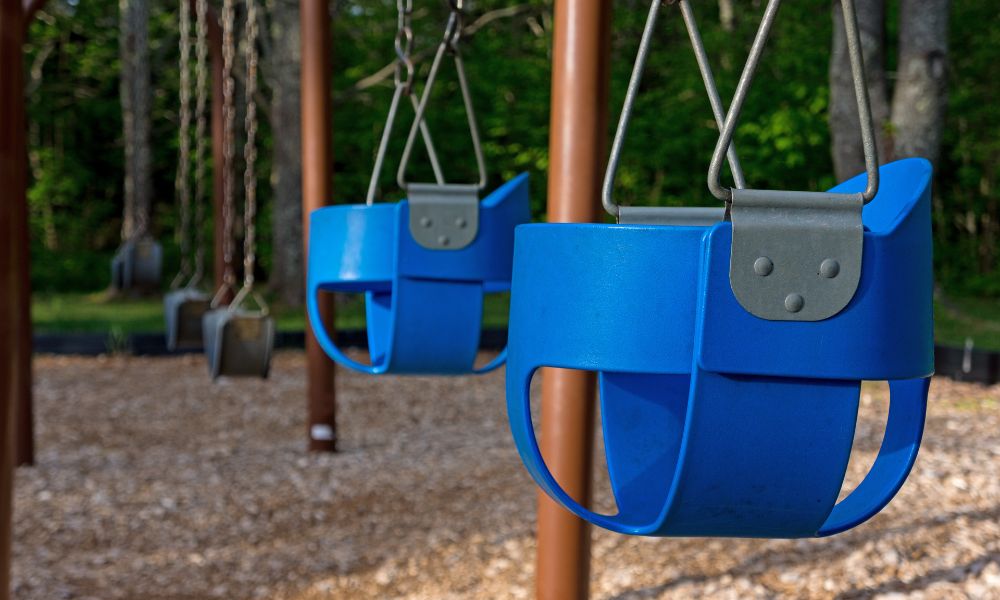 Metal and plastic are sturdy materials many park officials trust for young and older age groups. While you may hesitate to buy now, this guide's compiled pros and cons of metal and plastic swing sets can lead you to a final decision. Find out the advantages and disadvantages of both materials below.
A Few Things To Know About Metal Swings
Metal swings have grown in admiration since the early 1980s and remain popular today. While this material's seen plenty of success among parks, schools, and apartment complexes, it has its fair share of ups and downs.
The Pros of Metal Swing Sets
There are many things to enjoy about metal swing sets, and one of the pros is that the material is inexpensive. Metal swing sets are easy to assemble and request replacement parts for repairs. They've been all the rage for the past four decades; needless to say, the swing material is long-lasting.
The Cons of Metal Swings
Nevertheless, there are drawbacks. For starters, metal rusts over time, especially when exposed to the elements and without a protective seal. Unlike plastic, you'll need to paint metal more often to keep its luster. Also, metal swings can bend and break.
What To Know About Plastic Swings
Plastic is a mainstream material proven to be most beneficial for pre-school-aged children and lasts longer when appropriately maintained. Compared to metal, plastic is lightweight and easy to assemble.
The Pros of Plastic Swings
Plastic swing sets are having their moment—the materials are light and easy to maneuver around a park. Not only that, but they come in many color choices to liven up the play area, and they introduce imaginary play early on. Despite these boosters, what are the cons of plastic swing sets?
The Cons of Plastic Swing Sets
The cons consist of weight and age restriction. It's essential to note that the choices are slim when selecting designs. On top of that, color fades fast and looks unappealing to parents and their children.
Building the foundations of your park includes comparing metal versus plastic and understanding the pros and cons to fully come to a decision. By learning all you can about each material and its pricing, you'll better grasp the type of playground you want to create.
While it's essential to find the best swing set for your desired playground, you should also consider safer surfacing for kids to land on; pour-in-place rubber surfacing from Discount Playground Supply is beneficial to have in the park to make playing on the swings more fun. Shop around with us for more playground essentials.