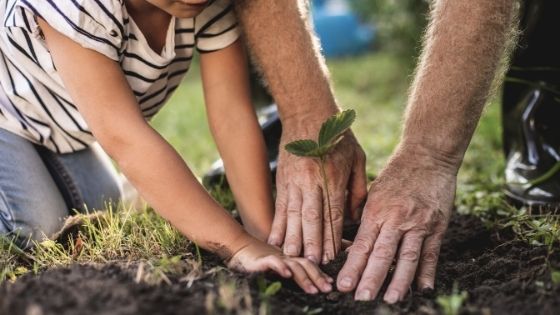 Families should make it a priority to give back when they can, and businesses should offer opportunities for families to come out and support their communities, especially on the playground and at the park. When looking for new opportunities to give back, consider our list to help you find out the different places to volunteer as a family.
How To Pick the Right Volunteer Opportunity for Your Family
Many families have various interests that they might want to support. For example, one child might be interested in going to an animal shelter, while another might want to run for charity. Whatever your interests are, each family member can support their favorite cause. To decide how to prioritize them, create a list of upcoming events in your area and a contact list for those organizations. Then, compile them all into a family calendar to see how much time you can dedicate to each issue.
Your Neighborhood Playgrounds
The community park is a great starting point to volunteer as a family. Before you go ahead and clean or repair anything, reach out to recreation and park council members to get permission to set up a clean-up day. As a volunteering family, you can help maintain local playgrounds by assisting with repairs on equipment and surface areas with kits like rubber playground surface repair. Using a repair kit can help improve the playground's integrity and make it safer.
Your Local Hospital
As children learn about giving back, they may find it difficult to grasp that other children their age face challenges that they themselves do not. You and your children can give back by running a toy drive or donating other necessary supplies to help children at the local hospital feel better. Not only that, but your children can also visit with patients and spend the day with them. Just be sure to check with the hospital in advance.
The Library
Libraries are a great place to spend time and give back to members of your community. Check in your area for opportunities to volunteer through your public library. Many offer programs for children to do small jobs around the library, such as sorting books, stocking shelves, and even reading books to toddlers.
A Homeless Shelter
Volunteering at a homeless shelter won't require a thing, but it can lead to life-changing opportunities and lessons. Your family can help by going to a shelter to spend time with shelter residents or by going grocery or clothes shopping and donating items to the shelter. By donating and spending time with underserved families at a homeless shelter, you'll help your children develop empathy and interact with people from different backgrounds than your own.
An Animal shelter
No matter what organization or shelter you go to that supports animals, you'll benefit from taking time away from a busy lifestyle to spend time with animals. Bring the family to a local animal shelter to volunteer. Perform basic tasks like walking dogs, bathing kittens, and even helping to change out the cages. An animal shelter can be a life-changing place when you spend even five minutes of your time with a cat or dog.
Your Church
If you are a member of a church or know of any in the area, reach out to them for information about any potential opportunities to give back to the community. The volunteer opportunities can range from missionary work to volunteering at school functions. Regardless of your faith background, being around those who devote their time to the community can inspire and influence you to do more for your neighborhood and surrounding area.
National Parks or Forest Preserves
National parks or forest preserves—these two places house many of the world's magnificent mountains, trails, trees, and endless opportunities for the perfect family picture. Take time out by volunteering to clean up a national park or help set up a new area for wildlife to enjoy. Nature preserves and national parks are great for nature lovers, and they're even better for families looking for new ways to get out, see the world, and give back to it.
An After-School Program
Schools are always on the hunt for the most caring individuals to take time out of their days to give back. No matter the grade level, you can volunteer for after-school programs that range from sports to academics to the arts. For example, if a nearby school is putting on a play, you can volunteer for their construction crew and perform tasks like painting sets and building props.
Fundraiser Walks and Runs
If you enjoy running in fundraiser walks or runs, get your family involved the next time around. By finding a charity close to your heart, you can spend quality time together while also raising money for a cause you believe in. If you happen to know of anyone with cancer or another debilitating disease, consider starting a family fundraiser walk in that person's honor.
The Homes of Community Members
Unfortunately, many in the community are sick or injured and can't do many everyday things, such as grocery shopping or cooking meals. Dedicate time to go grocery shopping for your neighbor or spend the day cleaning their home. When families opt-in for volunteering for these types of programs, they see their children's lives change in a very encouraging way, especially when they get to meet different kinds of people. When volunteering, ensure that the tasks you complete are appropriate for children and teens.
A Community Garden
Sometimes, families like to start small and work their way to other volunteer opportunities, such as holding a fundraiser for a sick friend or volunteering at a homeless shelter. Families looking to start small in their volunteering journey should consider starting or working in a community garden. Working in a garden, you can learn many life skills and might even feel inspired to plant your own. You'll learn how to cultivate and pick the freshest flowers and fruits when it's time to harvest. If you have teens heading off to school soon, this can be an excellent way for them to find out how to nurture and take care of a plant.
As you explore the different places to volunteer as a family, you'll learn about the many great opportunities available to you, as well as different perspectives and life lessons your children will have the chance to learn. If you're a community member who runs a park, consider hosting a playground clean-up day or even a special event to help raise money for a local charity. By hosting an event at your playground, you'll have community members from all over coming in to volunteer for a foundation or charity that means a ton to the neighborhood.