Posted by Discount Playground Supply on May 12th 2021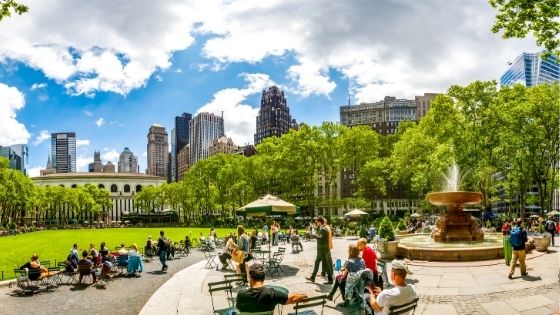 Public parks and playgrounds are often underappreciated but important amenities to any city community. They provide a place for socialization and physical activity that keeps a community healthy, connected, and even raises the value of the land around it. To make sure you're getting the most out of these parks, here are some tips for evaluating and improving city parks.
Goals of City Parks
Establishing the goals of your park is one of the most essential tips for evaluating and improving city parks because it helps you determine what makes for an effective park. For example, you may have resident-focused goals such as promoting healthy lifestyles and encouraging socialization. Or you may have economic goals such as boosting tourism, raising property values, and creating energy-efficient spaces. Preserving green spaces that are lush with nature has enormous benefits for both types of goals, making it well worth the cost to preserve and improve upon your parks.
Evaluating City Parks
Keeping your park goals in mind, you can now evaluate your city parks to ensure they're meeting each of the goals you set forth. Some evaluations to consider include ensuring the park has a clear expression of purpose—whether that be a quiet, leisurely space for residents to relax or a playground for kids to play and exercise on—and that residents are satisfied with the park and its amenities.
You should also keep an eye on the physical condition of your parks. Damages, corrosion, and wear and tear are inevitable. It's important to address these issues quickly to ensure your parks remain safe and functional. Otherwise, the park will lose its appeal, and residents will be less likely to use your city parks.
Improving City Parks
Quickly addressing damages and worn equipment is also one of the easiest ways to improve your parks. Playgrounds, for example, will need regular maintenance and replacements, which in turn keep the parks up to date with the latest equipment and safety measures. This even includes the foundation of the parks, as playground surface repair is vital for reducing the severity of injuries when kids fall during play.
If you're unsure how to best improve upon your city park, you should speak with local residents and see what they would suggest in regard to additions or changes. They can help you identify defects and damages in the park that you may not have caught yourself.