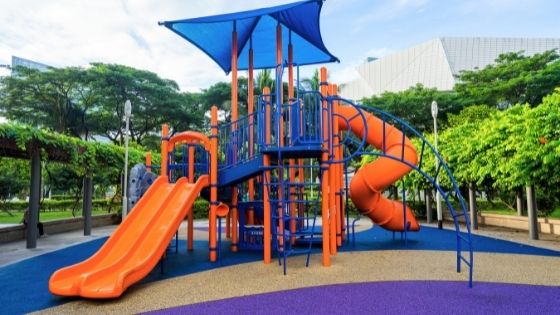 As park administrators, we understand the difficulty of finding suitable surface material to use in your playground. As you sift through pages of options, you might think you've run out of luck. But you still have some good luck on your side. We're here to tell you the best choice for you is rubber surfacing. Here's more on why rubber surfacing is the best choice for playgrounds.
Rubber Surfacing is Safe and Affordable
Rubber surfacing is an appealing choice; it creates a nice, clean look. The vibrant colors used make the playground a more inviting environment for children. Also, since the flooring is rubber, parents won't have to worry about their kids getting injured if they fall.
Rubber Surfacing is Clean and Environmentally Friendly
Cleaning rubber surfacing is easy. It won't hold any bacteria or attract insects. And, since the material is from recycled materials, the surfacing is eco-friendly and won't harm the environment or the children playing on it. Simply sweep it clean of any gathered debris, and it'll look as good as new.
Rubber Surfacing is Comfortable and Sound-Resistant
Children won't get sore feet from running around on the rubber surface. Additionally, when they stomp or run, the noise gets absorbed near 18 decibels. The absorption rate makes this material perfect to use in courtyards and indoor play areas.
As you have learned why rubber surfacing is the best choice for playgrounds today, let Discount Playground Supply be the one to help you get started on buying your first rubber surface kit. Our pour-in-place rubber surface kit allows children in the community or your apartment complex to play in the park or playground safely. Discount Playground Supply helps prepare your play area with the best surface material to keep children safe and sustain the environment.